Implemented between 2014 and 2022 by GRET and its partners, the Rhyviere II project (Village hydroelectric network: energy and respect for the environment) is among the organisation's most emblematic projects. It is original in its multiple, complementary interventions, based on the principles of economic promotion and respect for the environment. In the Districts of Ambohimahasoa in the Haute Matsiatra region and Bealanana in the Sofia region, more than 39,800 people finally have access to electricity and lots more…
In Madagascar, the Ministry of Energy and Hydrocarbons estimated that in 2015, only 15% of inhabitants were connected to an electricity network. This figure is as low as 4.7% in rural areas, where 70% of people in the country live. Almost 14 million rural people live with no access to electricity, which is a major obstacle to improving their quality of life.
GRET has been present in Madagascar since 1988. It contributes to development policies and favours sustainable access to essential services. Since 2008, with the Rhyviere I project, it had been developing rural electrification in Madagascar, focusing on hydroelectricity. Drawing on the experiences and findings of this first phase, GRET launched a second phase with financial support of 7 million euros from the European Union and the French fund for the world environment. The project was implemented with the Ministry of Energy and Hydrocarbons and the Rural electrification development agency.
Sustainable access to electricity
The technology used by GRET and its partners for the Rhyviere II project draws on exploitation of the available hydroelectric potential, thanks to the presence of substantial natural water resources, which provide renewable energy. This enables rural populations to access low-cost, sustainable electricity. To do this, two hydroelectric plants were installed in Bealanana, in the Sofia region, and in Sahatona in the Haute Matsiatra region. Each of these high power 1.5 MW plants enable 8,000 households in 8 communes to have continuous access to electricity. The communes in question are Ambatosia, Ambodiampana, Beandrarezina, Bealanana and Antsamaka, in the Sofia region, and Vohiposa, Camp Robin and Sahatona in the Haute Matsiatra region.
Currently, more than 50 health, education and administrative structures are also connected to electricity networks that were implemented as part of the Rhyviere II project, thereby favouring the development of its zones of intervention.
In zones that are far away from these main networks, GRET supported the implementation of alternative solutions through communal electricity development plans. These solutions are based on the use of available renewable resources, such as solar energy. At an "electricity centre", inhabitants have access to a shared service and can recharge their mobile phones or have access to a refrigeration system, for example.
Economic development thanks to electricity
In addition to implementing infrastructure to produce electricity, GRET contributed to the promotion of economic activities in the Rhyviere II project's two regions of intervention. In particular, it organised trades forums, aimed at promoting income-generating activities relating to the use of electricity and bringing economic actors together with the various other stakeholders.
Factsheets on trades related to the use of electricity were distributed. The latter present practical information on starting up an activity, the necessary electric equipment, investment costs… for a hairdressing salon or a cybercafé, for example.
A national call for projects intended for young people was organised in order to create an entrepreneurial dynamic in the electrified territories; to encourage young people to set up their business in a rural area with strong economic potential, and above all to inspire the population to set up new income-generating activities. This approach gave rise to support for local entrepreneurs to develop their businesses.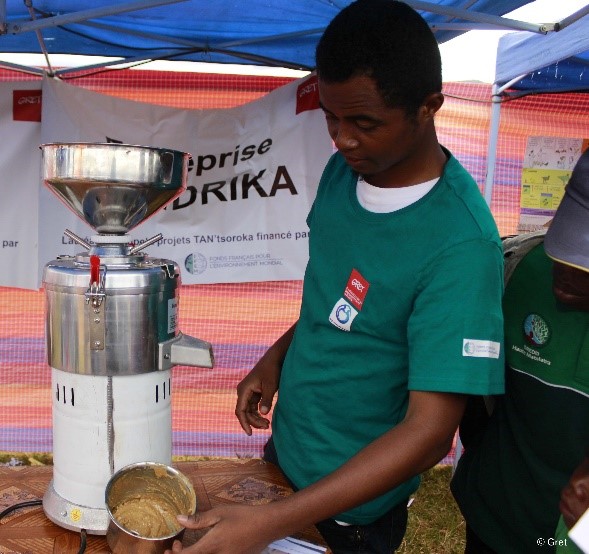 Mendrika is one of four people whose projects were funded following the "TAN'tsoroka" call for proposals. GRET supported him to set up his peanut-butter production business. This young entrepreneur also received equipment enabling him to start his business, along with technical support.
Environmental protection at the core of GRET's actions
The Rhyviere II project features a specific component focusing on environmental protection and sustainability of the water resource, which is used for agriculture and to produce energy. GRET conducted socio-environmental diagnoses at each site in order to propose the most appropriate solutions: anti-erosive actions and promotion of agroecological techniques in particular.
In its environmental actions, the project team prioritised the implementation of village nurseries and reforestation to meet the population's needs on the one hand and strengthen preservation of water resources in watersheds by increasing forest cover on the other hand. To facilitate these activities, a partnership was established with the Regional directorates of the Environment and sustainable development at the two sites.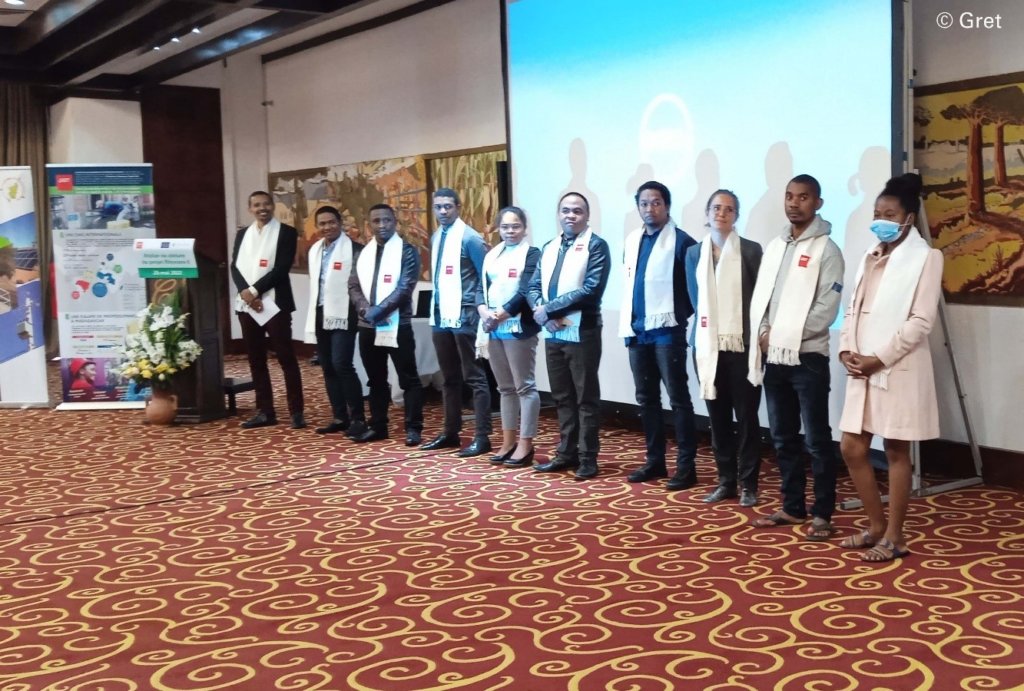 In addition, local structures were set up to protect watersheds over the long term, after the end of the Rhyviere II project.
The Rhyviere II officially ended on 31 May 2022.