As part of the Meriem project, GRET and Hystra worked together with the Malian agrifood business Ucodal, to develop and market a fortified infant flour in Mali.
A new quality infant flour on the market
The creation of this new product demonstrates willingness to fight against a major public health problem in Mali: malnutrition in infants and young children.
"Samani, Nafa Ka Bon" (Samani has major benefits), is an infant flour made from local ingredients such as white maize, soybeans and groundnuts. Also containing milk and a blend of 21 vitamins and minerals, Samani flour provides children aged 6 to 23 months with all the micronutrients necessary for them to have good health.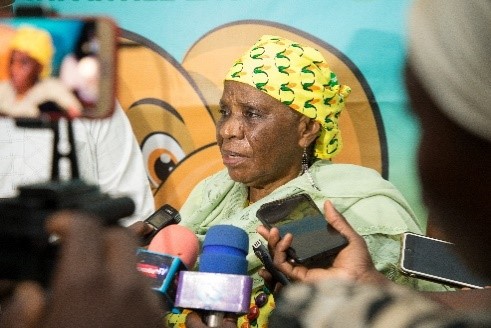 According to Fadima Mariko, manager of Ucodal, "Samani flour has strong potential to prevent malnutrition in young children because it is perfectly suited to their nutritional needs".
The launch ceremony
To mark Samani's entry on the market, a launch ceremony was organised on 14 September 2022 at the Bamako International Conference Centre. Two hundred people were invited to participate in this significant event, including the representative of the Ministry of Health and the mayor of commune III in Bamako.
A large-scale promotional campaign will soon be rolled out
A promotional operation was also conducted via a poster campaign in the neighbourhoods of Bamako, radio advertising and active communication on social media. Lastly, an original promotional campaign, "The Samani Show",will soon be launched in Bamako, with a caravan travelling through the neighbourhoods of the city and other events (sketches, games, talks-debates with storytellers, etc.).