Rock Koubemba has been working in waste collection in Brazzaville for almost ten years now. Today he employs 4 people and has put a lot of effort into defending the interests and concerns of pre-collectors in his district. His peers elected him as chairperson of the "Lisanga Pona Bopeto Ya Brazzaville" (LIPOB) association, which brings together waste pre-collection operators (PCOs) from all over the city.
What did the Filipa project do to improve working conditions for waste pre-collectors?
Before the Filipa project, we were called "Bana la Voirie", which means "The bin children". We were considered to be useless people that nobody wanted to associate with, and the majority of pre-collectors wore balaclavas so as not to be identifiable by the population. When we were victims of injustice or verbal and physical violence, the authorities did nothing to help us as we were not officially recognised, to the extent that this job was long considered as an activity aimed at survival, allowing us merely to cover our basic needs. The Filipa project contributed to improving the authorities' and the population's image of us, and laid the foundations for professionalisation of our sector through training and consideration of the health risks involved in our work (vaccination, personal protective equipment). Today, PCOs have a different perception of their job, they no longer feel they are marginalised by society and consider themselves as small businesses.
Why set up a waste pre-collectors' association?
Brazzaville currently has more than 300 individual pre-collectors working in the city's nine districts; but not all of them have obtained official authorisation from the municipality of Brazzaville. In light of the many problems encountered by the PCOs, we thought it was important to come together in an association to better defend pre-collectors' interests and concerns vis-a-vis the city authorities. LIPOB mainly supports PCOs with procedures to obtain authorisations and organisation of marketing campaigns for the service in the various neighbourhoods in order to increase the number of clients. The association's official launch ceremony took place in February 2019 and the deputy mayor in charge of sanitation was in attendance.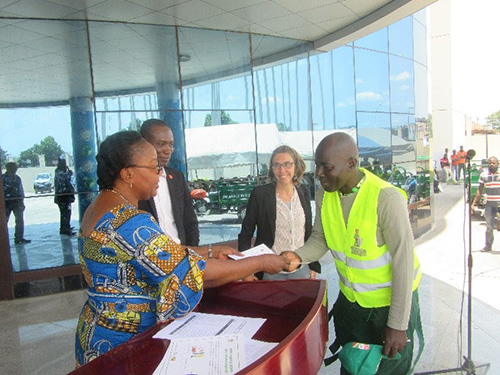 How do you envisage LIPOB's future sustainability after GRET's departure?
To date, LIPOB has 129 members. The advantage of our association is that, at all levels, it is made up solely of active pre-collectors who feel the need to come together because, as the saying goes, "united we stand". LIPOB was integrated into the communal unit for coordination and monitoring of pre-collection, implemented by the municipality of Brazzaville. In this regard, we are at the heart of the debate and decision-making concerning the waste pre-collection trade, thereby strengthening our recognition by the authorities.