GRET has been implementing a participative urban project called Ouagadougou urban incubator in Burkina Faso since 2018. Taking a joint approach with stakeholders in the greater Ouagadougou area, GRET implemented a support fund for micro-projects, a system that contributes to stimulating future sites for sports and cultural projects, and to prefiguring their uses.
The Urban incubator is being rolled out in association with an ambitious urban development project led by the municipality of Ouagadougou: the Ouagadougou Sustainable development project (PDDO2). This project, funded by Agence française de développement, aims to support and intensify balanced territorial development in the greater Ouagadougou area by facilitating the mobility and emergence of secondary metropolitan areas.
A call for participative projects…
One of the urban Incubator's ambitions is the appropriation of the PDDO2 sites and the prefiguration of uses for inhabitants. To do this, in partnership with Humanité et Inclusion (HI) and in support of the Municipal Agency of major works (AMGT), GRET proposed and implemented a support fund enabling funding of temporary micro-projects designed and led by civil society stakeholders in the areas of sport, culture, public spaces and green spaces directly related to future definitive facilities planned by the PDDO2.
The first stage of this support fund consisted of a call for ideas, launched in August 2019. The latter made it possible to collect 44 ideas for cultural and sports projects, formulated by formal or informal civil society organisations (CSOs) and inhabitants in neighbourhoods. It was important to have informal organisations' participate in the process approved by the communal institutions, which are members of the project's steering committees. The majority of CSOs in neighbourhoods of intervention had never formally registered, through lack of knowledge on administrative procedures, but they are very active and greatly contribute to dynamism in the neighbourhoods.
This call for ideas made it possible to calibrate guidelines for a call for projects launched in September 2019. 27 projects were selected from the total of 48 received by the selection committee: 11 sports projects, 14 cultural projects and 2 urban beautification projects. These projects were selected for their inclusiveness, their capacity to enable experimentation of various uses of sites, or for tenderers' capacities and experience. The overall amount of the grant directly awarded to the organisations was 40,151,250 FCFA, i.e. 61,110 euros.
… for collective implementation
The various projects selected were successively implemented from December 2019 to February 2020 at the project's seven sites of intervention: training sessions, a wheelchair basketball competition, storytelling, music, reading workshops, sessions initiating children into art and graphic design, urban beautification and many other activities all featured.
The support fund went hand in hand with the implementation of temporary, transitory and some sustainable urban developments co-designed with inhabitants at the sites. Initial spatial experimentations to support activities and events were organised by the civil society organisations. The support fund served as a springboard for CSOs and artists, who benefitted from support and training delivered by the GRET and HI group throughout the process, in particular for project preparation, procedures for management of funds, consideration of the issue of accessibility to public spaces and activities proposed.
This system made it possible to involve several hundred people in the project and to ensure representation of all stakeholder groups in the activities generated on the sites. For example, 83 people with disabilities participated in the call for ideas and the call for projects The municipal services were very involved in this process, ensuring an institutional presence at all stages. Eighteen employees from these services participated in meetings held for consultation, information and training and in the implementation of the various projects on the sites.
However, participation by artists and women's CSOs was low during this first call for projects. The Urban incubator initiated a second call for projects exclusively intended for women and women's organisations in mid-March 2020. The system was adapted to provide the necessary support while respecting health recommendations relating to Covid-19. Implementation of projects will take place when gatherings are authorised again.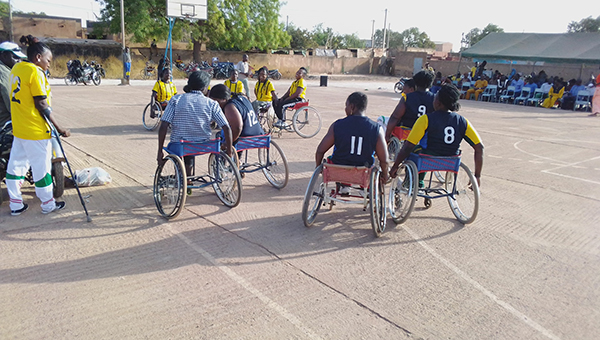 The first assessments carried out with the project stakeholders pointed to strong enthusiasm for the site revitalisation scheme, and the wish to see it repeated in the near future. It is also very clear that by enabling various groups of stakeholders to work together around this support fund, the scheme facilitated social cohesion in these neighbourhoods and contributed to establishing dialogue between inhabitants and institutional stakeholders that could be prolonged around the definitive PDDO2 facilities.