Since October 2020, the Kéré Association and GRET have been mobilised for the inhabitants of southern Madagascar, who have been affected by extreme drought and increasing food insecurity. Following the Flash Appeal by the United Nations in January 2021, France announced an exceptional contribution of 1.5 million euros in food aid via funding for four projects being rolled out in the areas most affected by the kere (famine in Malagasy), including a project led by GRET and Action contre la faim. The nutritional status of populations remains critical and there is a risk it could worsen during the year.
In the Androy region, recurrent lack of rain in recent years has increased due to climate change, generating increasingly food and nutritional crises. Since the end of 2020, the situation has been particularly severe, with extremely insufficient or no rainfall in certain areas, and the rare rainfall recorded followed by violent wind that covered seedlings with sand. This means that 2021 harvests will be poor: just 40 % of production expected in normal years. In addition, increases in food prices and the effects of the Covid-19 pandemic have reduced households' purchasing power.
Thanks to the solidarity of Operation Kéré and strong mobilisation of inhabitants in Reunion Island, from the end of October 2020 GRET was able to provide food assistance to more than 7,200 people, including 1,350 children in the Tsihombe district. Since then, several stakeholders have intervened in southern Madagascar, in particular the World Food Programme (WFP), Action contre la Faim (ACF), Humanité et inclusion (HI), Catholic Relief Services (CRS), the United Nations Programme for Development (UNDP), the Fonds d'intervention pour le développement and the Malagasy State. Despite this, recent nutritional surveillance results are very worrying (see below).
Expanding emergency interventions in southern Madagascar…
In 2021, the French Ministry of Foreign and European Affairs (MEAE) provided GRET with support of 300,000 euros to fight against malnutrition in two communes in the Ambovombe district. In 2020, GRET and Action contre la Faim had already developed a joint strategy to cover malnourished children in approximately thirty fokontany (villages) in the Antanimora and Jafora areas of the Ambovombe district. Nutrition screening activities, medical and nutritional care and support for consolidation of the nutritional status of cured children were conducted by the two NGOs' teams on the ground, together with regular monitoring of growth and awareness-raising activities with mothers to improve their food, care and hygiene practices. In short, almost 2,000 children were covered as part of this previous partnership. 4,500 vulnerable people received food aid.
Tanks to the new MEAE funding, GRET will be working in the fokontany in the Antanimora and Jafora areas, which have no services covering moderately malnourished children, while Action contre la Faim will ensure monitoring of the villages that are furthest from health centres. This project will make it possible to improve prevention and treatment of children suffering from malnutrition, and raise awareness among populations on best food, care and hygiene practices in particular by highlighting agricultural products that are adapted to climate change and nutrient-rich, and improve populations' resilience to cope with the hunger gap.
With a view to promoting a local food offer, GRET and its partners are working in close collaboration with Malagasy businesses such as Taf and Nutri'zaza, which produce and distribute the Koba Aina fortified infant flours and Pecmam, and focusing on cereals, pulses and seeds that are produced locally with the support of Malagasy NGO the Southern agro-ecological technical centre (CTAS).
This new project will make it possible to support 6,600 people, including more than 1,500 children aged 6 to 24 months, with the support of 60 community officers trained and supported to work on prevention of malnutrition.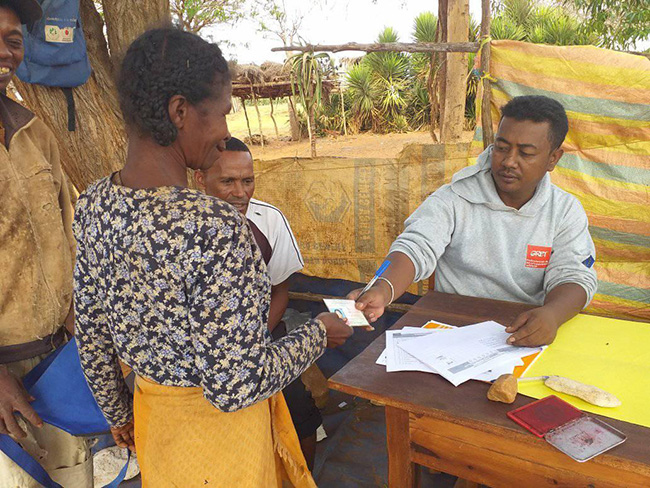 … while ensuring sustainability of the actions conducted in 2020
From October 2020, supported by the solidarity that was triggered by the Kéré Association, GRET's intervention focused on the distribution of drinking water and food aid to 7,200 people, in 15 fokontany in the Tsihombe district, in the southernmost part of the Androy region. This distribution as accompanied by monitoring of child malnutrition at community level. 1,350 children aged 6 months to five years, who are particularly vulnerable to malnutrition, benefitted from specific attention via distribution of fortified infant flours with a high nutritional quality and produced in Madagascar by the Nutri'zaza social business: Koba Aina.
These interventions were welcomed with relief by inhabitants, who at the time had no more food reserves and were eating food they picked – particularly red cactus fruit. As the 2020-2021 agricultural season is under significant threat, GRET and the Kéré Association decided to prolong distributions until June 2021. To contribute more sustainably to inhabitants' food self-sufficiency, the operation will also make it possible to restore 800 hectares of crops that provide 18,000 inhabitants in the Ambovombe district with food, as well as fodder for livestock and wood for cooking, a rare fuel resource in this deforested region. In parallel, 4.8 tons of seeds adapted to the climatic conditions in the Androy region are being produced by CTAS and will be distributed to families in Tsihombe, enabling them to grow millet, sorghum and cowpea for their own consumption.
Despite these actions and interventions by several organisations, the situation is critical in southern Madagascar and there is a risk of it worsening due to an exceptionally long drought. Conducted by the Ministry of Health and the National Nutrition Office (ONN), with support from UNICEF, the European Union and USAID in the 1st quarter of 2021, nutritional surveillance covering 90 % of children under the age of five in the area shows that 19 out of the 21 communes in the Ambovombe district and 8 of the 9 communes in the Tsihombe district are in an urgent situation in terms of nutritional status. At regional level in the Androy, the analysis estimates that 1.06 million people are experiencing acute food insecurity, i.e. 27 % of the population analysed in the Grand Sud and Grand Sud-Est districts.
These alarming figures highlight the pertinence of the interventions conducted in southern Madagascar for more than six months, but also the necessity for very rapid large-scale roll-out of sufficient means to enable inhabitants in southern Madagascar to get through this exceptional crisis by minimising the impact on their health and their economic means. According to the Integrated Food Security Phase Classification system(IPC), these interventions should focus on four main areas: access to adequate food; access to drinking water and hygiene measures; nutritional care for children and free medical care for households with no resources; and lastly, access to agropastoral inputs to enable populations to quickly recover from a crisis.
While the next agricultural season's yield is forecast to be very poor and households' resources are severely diminished, or exhausted, by a series of crises, international assistance must be strengthened now and in the future in order to minimise the environmental and human impact of climate change and strengthen populations' resilience in terms of health, food and access to drinking water in particular.