Since 2019, GRET's teams have been supporting approximately twenty market-garden cooperatives in the Brakna region, in southern Mauritania. Made up mainly of women, these market-garden cooperatives have developed technical agroecology skills, as well as simplified accounting management skills via the implementation of farmer relays. We take a look at this system, used to structure farming in Mauritania as part of the Safire programme.
"The first advice received concerned agricultural practices. We started using manure on our plots. This made them more fertile and significantly reduced the need to water them. In dry hot climates like that of Mauritania, every drop of water is precious", says Marieme Sy, one of the relay farmers at the Bourgoudouna cooperative. These women farmers have their own practices, but the agricultural advisors are here to improve their skills while taking the local context into account. "GRET's agricultural advisors support us; we relays are their main interlocutors. We already had knowledge, but by talking to the advisors, we have been able to acquire new knowledge and share it with all the members of the cooperative. Today, people are even contacting us from outside our own cooperatives", she says.
Today, 253 relay farmers in 23 cooperatives, i.e. 3,000 active members are being supported. The cooperatives are no longer only producing for several months a year, but all year long thanks to a selection of plants that are more heat-resistant such as okra, turnips or water melons. "This year, we produced more than 2.5 tons of water melons during the hunger gap. We sold them to grocery shops, which gave us continuous income. With this money, we can cover our families' healthcare and education costs", says Aissata Saw, a relay farmer at the Fèdè Rewbé Bagodine cooperative.
These cooperatives are engaged in sustainable food production, preserving natural resources in a ccontext of climate change.
Advice on business management
Now that production has increased, relay farmers are progressively supported to strengthen the the cooperatives' associative activities and management. "It was necessary to define roles in the cooperatives and develop management tools for cooperatives to be autonomous. A simplified guidebook on management of small market-garden farms and a bookkeeping notebook were provided to the farmers to monitor production", says Boubacar Diallo, agricultural advisor at GRET. "The cooperative's development is decided by its members, who collectively identified the need for a new pump and a dryer. These proposals are voted on to decide their order of priority", says Fati Thiam, a relay farmer at the Fèdè Rewbé Haymedatt cooperative.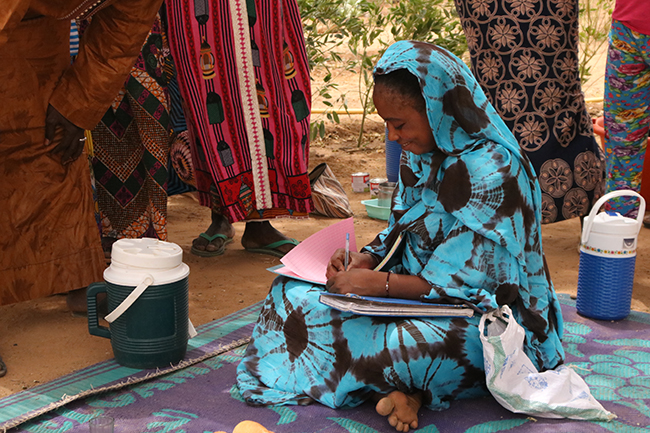 Social evolutions towards more gender equality
Through the Safire programme, women are more resilient and are participating financially in the economy of their the household and village economy. By selling vegetables, they now fully participate in decision-making processes on the use of income to improve their living conditions. "Men have understood what our work contributes to the family, our meals are consistent now", says Fati Thiam. Evolutions in relationships between men and women are spreading beyond the cooperatives, to the home and even within villages.
Listen to Faty Thiam, group leader and relay farmer at the Haymedatt women's cooperative (Fédé Rewbé Haymedatt) (in French)
The Safire programme, funded by the European Union (EU) and implemented by 14 NGOs including GRET and Caritas, aims to respond to multisectoral issues such as youth unemployment, entrepreneurship and food security in Mauritania. The content of this article is the sole responsibility of GRET and does not necessarily reflect the opinions of the EU.