After seven years at the head of the Nutri'zaza social business in Madagascar, Mieja Vola Rakotonarivo decided to head off to new associative adventures, continuing to focus on the best interest of her country. From the challenge of setting up an enterprise to the development of its commercial business, via accentuation of its social mission, we take a look back on a wealth of accomplishments over the years, driven by a committed personality.
In Madagascar, where more than half of children under the age of two suffer from chronic malnutrition, finding sustainable, effective, local solutions is a real challenge. One of the causes of this scourge is the insufficient quality of food for children aged between 6 and 23 months, who often have no access – as a complement to breastfeeding – to sufficient quantities of quality foods that properly meet their nutritional needs, at a price that is affordable for their parents.
The objective of the Malagasy social business
The adventure began in 2013 with the official launch of the Nutri'zaza Malagasy social business by GRET, four other shareholders (Taf, Investisseurs & Partenaires, Sidi and Apem) and financial support from Agence française de développement (AFD). The creation of Nutri'zaza made activities and commitments undertaken by GRET since 2002 to fight against child malnutrition in Madagascar sustainable, in particular its Nutrimad programme, conducted in partnership with the French National Research Institute for Sustainable Development, the University of Antananarivo, Taf and several Malagasy institutional stakeholders.
Mieja Vola Rakotonarivo, who had been with the project at GRET from the outset, was selected as managing director of Nutri'zaza. From 2013 to 2020, the company underwent several developments and impressive growth under her leadership.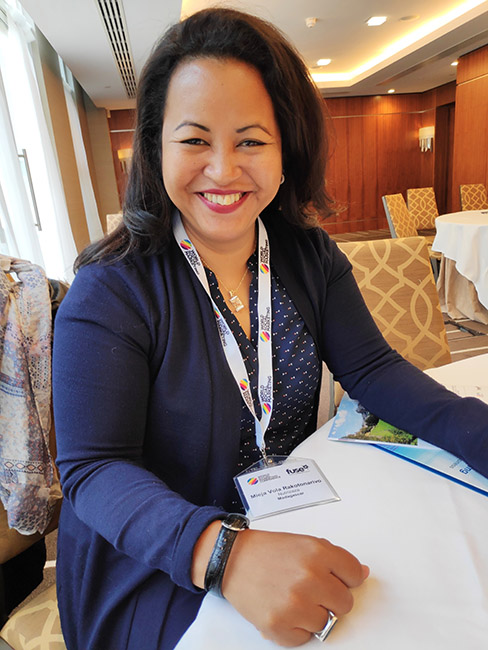 "It's difficult to become a company director when you come from an NGO background. Leaving GRET was a real challenge, I started my professional life there and built up relationships of trust. There's no training better than "learning on the job". […] Today, we are proud of the results achieved and of contributing to the development of the National Plan to fight malnutrition", says Mieja Vola Rakotonarivo.
The Nutri'zaza social business
Its mandate? To ensure accessibility of local products that are nutritionally effective to prevent malnutrition, at the lowest possible cost, to make them accessible for low-income families while ensuring sustainability of the service.
Its mission? To produce and distribute fortified local products respecting international standards at a price that is affordable for everyone, in particular a food that is complementary to breast milk: Koba Aina ("flour of life"); and to promote best feeding practices and mother and child hygiene.
Its action? To market local fortified products via the traditional food store networks, by the institutional network of organisations conducting nutrition projects and through its innovative network of Hotelin-jazakely, "restaurants for babies", located at the heart of working-class areas.
Its values? Social equity, inclusion, innovation and unfaltering commitment.
Its people in the field? A network of approximately one hundred facilitators working in precarious neighbourhoods in 47 towns and 27 officers visiting food product wholesalers and retailers.
"The company's purpose (…) is to serve the societal cause of fighting malnutrition by providing a solution to feed young children and other vulnerable groups in the Malagasy population." Extract from article 2 of the statutes on the purpose of the Nutri'zaza company.
"The shareholders undertake to reinvest the totality of the company's profits to extend the Nutri'zaza network". Article 7 of the statutes on investment of profits.
Today, Nutri'zaza is working with two partners, Taf and Chocolaterie Robert, who are strongly committed to this collaboration and participating locally to prevent malnutrition by providing quality products that are accessible to the largest possible number of people.
"I worked as a health officer in the fokontany, which built the Hotelin-jazakely. As it involved social work, I was very interested in working there as a facilitator, managing the Hotelin-jazakely and providing an affordable quality porridge to the children in my neighbourhood. In this way, I am making my small contribution to this cause for children! And it is also my source of income, which enables me to send my children to school!", says Tantely, who has been working as a facilitator in Antetezanafovoany for 6 years.
Major battles
Nutri'zaza is today demonstrating that it is possible to reconcile social impact in terms of public health and economic profitability. It is possible to provide Malagasy populations with a sustainable solution to malnutrition via a committed private stakeholder, without incurring costs for Malagasy State public finances or depending on international donors over the long term.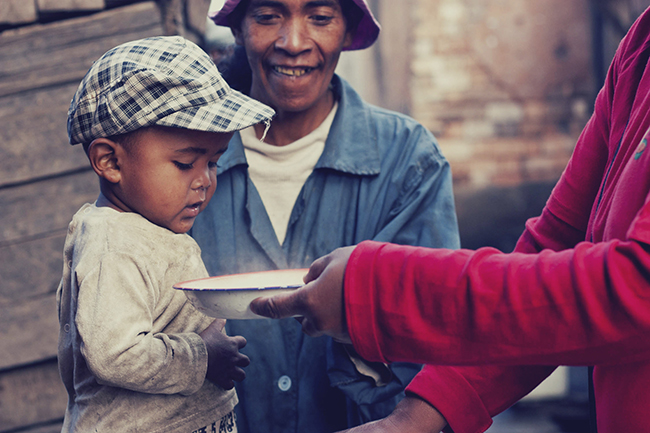 In order to achieve this objective, the company had to rise to numerous challenges to fulfil its mandate while stabilising its financial viability: develop internal organisation and management appropriate for change of scale, define an effective marketing and sales strategy, implement a solid quality control system, ensure social activities raising populations' awareness and maintain its innovative network of restaurants for babies in precarious neighbourhoods. It also conducts advocacy, which is necessary to ensure recognition of its social business status by the Malagasy authorities.
"In order to ensure its performance, a company must be responsive, constantly keep up with new developments, the market and its consumers' needs… and be patient! Whether to improve its products, control their quality or develop new products, Nutri'zaza is committed to distributing only healthy, high nutritional quality products to its customers. Products that respond to specific nutritional needs, setting standards even higher because they are intended to fight malnutrition in young children and vulnerable groups", explains Mieja Vola Rakotonarivo.
Behind every success story lies a strong personality, Mieja Vola Rakotonarivo is a person who takes battles on as a personal commitment. With her shareholders and partners, including GRET, she managed to establish Nutri'zaza as a key player of the Malagasy national sphere in the fight against malnutrition. GRET wants to thank Mieja Vola Rakotonarivo for her involvement, her commitment and her humanity.
---
Nutri'zaza today:
more than 64 million fortified meals sold since 2013;
more than 600,000 children with access to Koba Aina, including more than 13,000 under the age of 5;
more than 160 local jobs created, 80 % of which are occupied by women;
more than 8,200 operational points of sale;
more than 92 door-to-door saleswomen, with 33 Hotelin-jazakely operating;
more than 120 precarious neighbourhoods covered, with door-to-door sale of Koba Aina in 47 towns.
---
Mandresy Randriamiharisoa, the new face of Nutri'zaza
With 10 years of business experience in Madagascar, Mandresy Randriamiharisoa is attracted by the challenge and motivated by the growth target, in human and sales terms. With a very keen interest in social entrepreneurship, he has a real appetite for innovation and the search for sustainable solutions to improve living conditions in Madagascar. Through its significant action in the area of public health, Nutri'zaza is a company he has known well for a long time and for which he decided he wanted to put his skills to use.
According to him, many challenges await the company in the years ahead: extension of its sales network in the territory to make quality fortified products available to more children, more investment in research and development in order to remain competitive in the market (particularly the infant flours market), diversification of the product range to the benefit of new vulnerable target groups, development of social action in new areas matching the needs of the population, and maintaining key partnerships over the long term.
Mandresy Randriamiharisoa's arrival in September 2020 has given new impetus to Nutri'zaza, with continuity of actions that have earned the company the recognition it enjoys today.
Highlights from 2013 to today
| | | | |
| --- | --- | --- | --- |
| 2013 | 2014 | 2015 | 2016 |
| Creation of the social business based on a network of 34 restaurants for babies – Hotelin-jazakely (ready-to-eat Koba Aina porridge sold door-to-door) in seven towns, with support from AFD. Launch of 35 gr packets of Koba Aina, produced by Taf, in the traditional distribution network (food stores, shops). | Implementation of the company's Ethics and social monitoring committee. Improvement of the 35 g packet to extend the product's shelf life. Development of the network in working-class areas, development of salaried employment for facilitators and improvement of their social protection. | 1st place in the Finansol/Le Monde Solidarity Finance Grand Prix – "Entrepreneurship in developing countries" category. Nutri'zaza has sold almost 15 million servings of porridge (or equivalent) since it was set up. | AFD Lead Campus Training. Strong growth of sales in food stores. |
| 2017 | 2018 | 2019 | 2020 |
| Launch of the PFOA project (Food fortification for vulnerable populations in Madagascar)in partnership with GRET, with funding from the EU and the Principality of Monaco. Development of the Koba Aina range, with strawberry and banana flavours. Secretariat of the Malagasy private sector Scaling Up Nutrition (SUN) platform. | 1st prize in the Best product to fight against child malnutrition competition, organised by the Ministry of Industry and Development of the Private Sector, in collaboration with UNICEF. | Launch of Pobary Aina, a fortified cereal bar for children over the age of three, produced by Chocolaterie Robert. Participation in the World Social Marketing Conference in Edinburgh. 100th neighbourhood covered by the Hotelin-jazakely service. Nutri'zaza exceeds 50 million servings of porridge (or equivalent) sold since its creation. | Improvement of the Koba Aina formula, to cover children's daily micronutrient needs with a single serving. Roll-out of an exceptional operation to support families during the Covid-19 crisis (reduced prices, awareness-raising on Covid, distribution of soaps, etc.). Change of managing director. |