This February in Cambodia, a high-level visit by the Agence Française de Développement (AFD) took place, as Rémy Rioux – Chief Executive Officer of AFD Group – was in the country to celebrate the 30th Anniversary of AFD's presence in Cambodia. He also travelled to field to visit project sites and attend the launch of a number of new projects.
AFD has been a long-term development partner in Cambodia on various projects in areas such as access to basic services, water resource management and adaptation to climate change. GRET has been working with AFD to implement such projects in the country. During his visit, Rémy Rioux referred to several of GRET's projects, working specifically on agroecology, geographical indications and social protection.
On the weekend of the 19th of February, the GRET team had the opportunity to talk to Rémy Rioux at an informal lunch in Siem Reap province, where they participated in the discussion and were able to present activities currently being implemented by GRET in the province through the APICI project. Since 2010, within the framework of the decentralized cooperation program between the Hauts de Seine department in France and Siem Reap province, the APICI project has contributed to improving and securing the living conditions of smallholder farmers through agroecological practices and structuring of local value chains. A future phase of the project will focus on developing a territorial approach to improve food systems. The APICI project is funded by AFD, the Hauts de Seine department, Syctom, and People's Action for Inclusive Development (PAFID). It is being conducted in partnership with CIRD and Media Seeds. GRET availed of this opportunity to update Rémy Rioux on some of its other projects in the areas of water, sanitation, and food systems.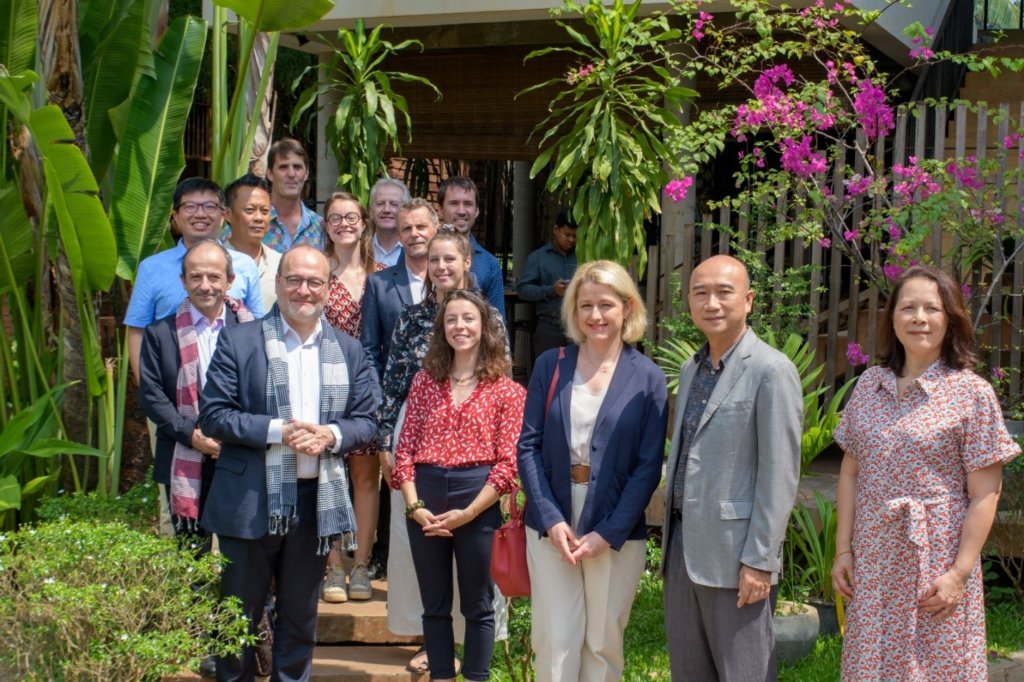 In celebration of the 30th Anniversary of AFD in Cambodia, GRET's projects on Geographical Indications (GI) were presented at the event on the 20th February. Displayed on the table are Kampot pepper, Mondulkiri wild honey, Kampot and Kep sea salt, and Kampong Speu palm sugar. These are local Cambodian products that are unique to their geographical origins. Supported by AFD, the project enabled GRET to work with its partners Artefact, Redd, Cirad, Iram, and Certipaq to push for product registration, support producers' associations, raise awareness and increase availability.
During his visit, Mr. Rioux significantly spoke of further AFD commitment to serve the most vulnerable Cambodian populations by signing a Memorandum of Understanding for the "Strengthening Adaptive Social Insurance in Cambodia" project with the National Social Security Fund (NSSF) and GRET. This new project, funded by AFD, will see GRET working with the NSSF to explore the feasibility of extending social security coverage to agriculture workers in Cambodia who are extremely prone to risks from climate change. In Cambodia, 70% of the population is not yet covered by social security and agricultural workers are among those most vulnerable to climate concerns in terms of health, food, nutrition, and income. The project will support further activities to realize NSSF's ambition for a comprehensive social security program.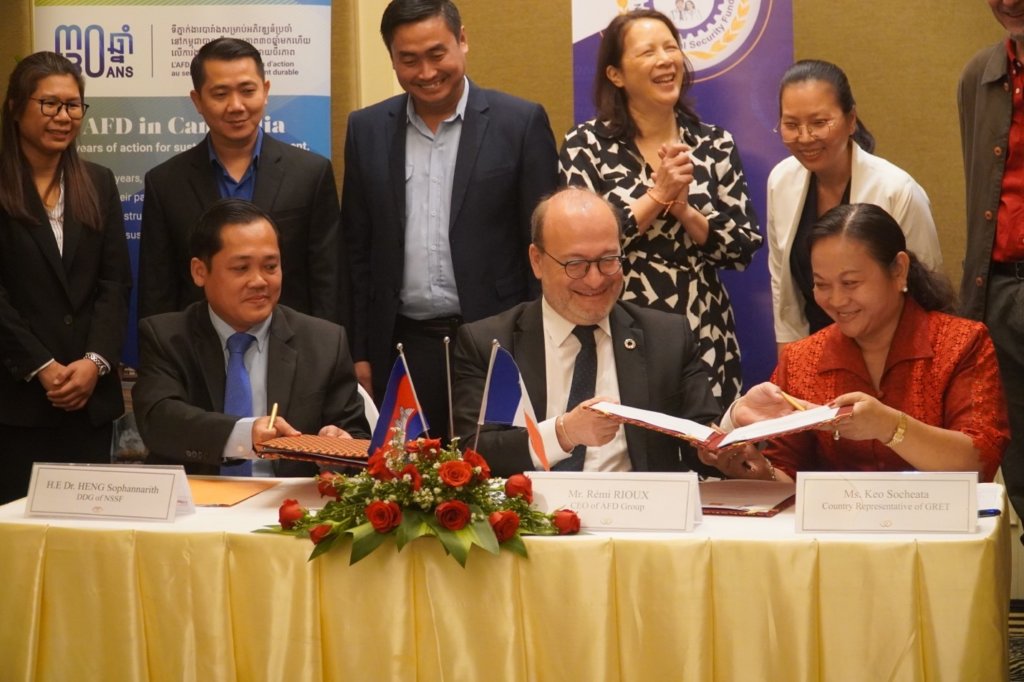 During the signing event, Mr. Rioux also praised GRET for the technical assistance it has provided to the NSSF through AFD funding, supporting its coverage of groups such as garment factory workers and recently helping with the pilot to integrate Tuk-Tuk (tricycle) drivers into the Cambodian social security system. GRET is proud to continue the partnership with AFD and NSSF to work on this social security project to serve the Cambodian people, especially in this climate change context.